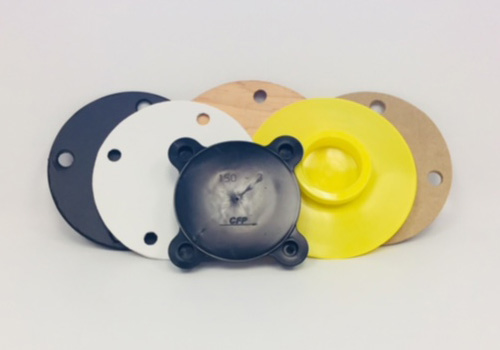 About This Product
Disc Style Flange Protectors:
Each protector is cut to the OD of the flange of the consumers choosing and comes with 4 bolt holes drilled out. The finished product is typically fastened to the flange with clips and washers, cable ties or steel wire through the bolt holes.
Notable:
Can be made to any OD or Bolt Circle with very little lead time
Best option for flanges larger than 12"
Stocked in:
MDF (particle board / Masonite) – 1/8" thick
Proplex (corrugated plastic) – 1/8" thick
HDPE (plastic) – 1/8" thick
Plywood – 3/8" – ¾" thick
Push-in Flange Protectors:
The most versatile and universal flange protector on the market. Suitable for both imperial (ANSI) and metric (DIN) flanges to specifications DN 2627 – 2638, 150, BS 5504, API and ANSI B16.5. Its unique design allows the protection of an array of different size flanges, as well as other various classifications of flanges with one part.
Molded Flange Protectors:
Molded flange protectors are a quick fitting solution. Simply insert the plugs into the bolt holes. They will not tear or crack and are weather and petroleum resistant. Suitable for ANSI, API, ASA and BS1560 flanges.
| | | | |
| --- | --- | --- | --- |
| Ansi Pipe Size | ANSI Class | API Size | API Class |
| 1/2″ | 150#, 300/600# | | |
| 3/4″ | 150#, 300/600# | | |
| 1″ | 150#, 300/600# | | |
| 1-1/4″ | 150#, 300/600# | | |
| 1-1/2″ | 150#, 300/600# | | |
| 2″ | 150#,300/600#, 900/1500# | 2-1/16″ | 2000#, 3000/5000# |
| 2-1/2″ | 150#,300/600#, | | |
| 3″ | 150#,300/600#, 900#,1500# | 3-1/8″ | 2000#, 3000#,5000# |
| 4″ | 150#, 300#,600#, 900#, 1500# | 4-1/16″ | 2000#, 3000#,5000# |
| 6″ | 150#, 300#,600#, 900#, 1500# | 7-1/16″ | 2000#, 3000#,5000# |
| 8″ | 150#, 300#, 600# | 9″ | 2000# |
| 10″ | 150#, 300#, 600# | 11″ | 2000# |
| 12″ | 150#, 300#, 600# | 13-5/8″ | 2000# |